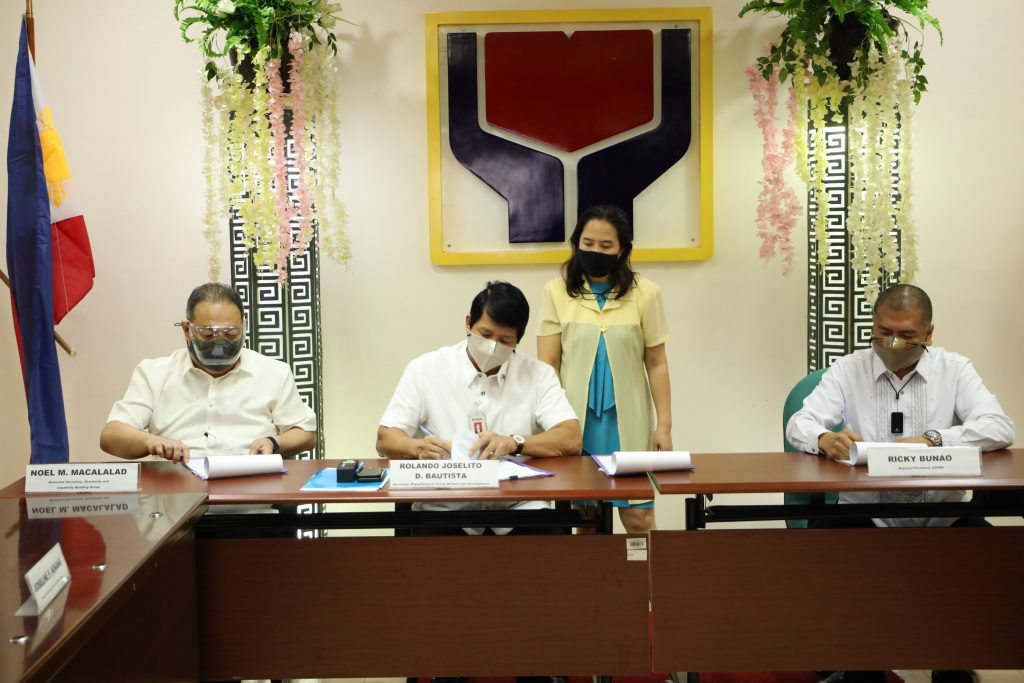 The Department of Social Welfare and Development (DSWD) signed a Memorandum of Understanding (MOU) with the Association of DSWD Social Workers (ADSWI) to ensure the effective execution of social work practice in the agency on December 22 at the DSWD Central Office.
ADSWI is a legal entity composed of Registered Social Workers (RSW) employed in the DSWD whose primary objective is to participate in the formulation and implementation of policies, issues, and concerns relevant to the practice of the social work profession.
Moreover, the association aims to serve as a venue for information exchange where social workers in the Department can share practices/stories/experiences that can be used as a tool or strategy in addressing other issues and concerns that affect the social workers as public servants.
During his speech, DSWD Secretary Rolando Joselito D. Bautista acknowledged the importance of the social work profession.
"Social workers continue to enhance the overall well-being and help meet the basic and complex needs of communities around the country. This type of work needs a lot of commitment, patience, and compassion to those who are needy," said Secretary Bautista.
The Secretary also conveyed his gratitude to the members of ADSWI for partnering with the Department to ensure the development of projects and activities to ensure effective social work practice.
"I express my gratitude to all the social workers of DSWD and the members of ADSWI for engaging in this partnership. This collaboration will not only ensure our commitments to the ASEAN Social Work Consortium (ASWC), but will also help us in our common goal to uphold and continue to improve the standards of social work practice across the country," the Secretary added.
Meanwhile, ADSWI National President Ricky Bunao assured the attendees that their organization will continue to support DSWD's endeavors and advocacies.
"Social workers of DSWD will be an active partner of the Department and the Philippine government in promoting policies, development, and implementing various programs and services for the empowerment of the poor, vulnerable, and disadvantaged sectors as well as in advocating sustainable development and long lasting peace throughout the country," he said.
The MOU highlights that DSWD, through the Social Welfare Institutional Development Bureau, will work in partnership with ADSWI for the professional growth and in advocating the interest of social work profession through the formulation of plans and provision of technical assistance to targeted local social welfare and development offices (LSWDOs) and other social welfare and development (SWD) partners.
DSWD will also continue to develop strategies and linkages to support and uphold the social work profession in the country and at the ASEAN level. ###