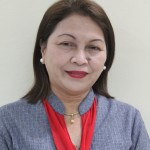 Warmest welcome to the DSWD Davao Region website!
A new year, a new beginning for all of us at the Department as we move forward in managing new challenges and performing the various tasks mandated of us as champion of social protection and social development.
This new milestone in the life of the Department coincides with our celebration of DSWD's 68th Founding Anniversary this year, with our theme, Katuwang Sa Pagbabago.
It is both heartwarming and exciting to note that DSWD is again faced with a number of deliverables and directives in 2019.
As in the past, I believe, resilient and responsive as we are, we shall always prevail in quality program implementation and service delivery.
Let us continue to hold on to our core values as we tackle another year, another chapter, another opportunity to work with  our clientele towards self-reliance and quality living.
Have an enriching and productive 2019!
MERCEDITA P. JABAGAT
Regional Director