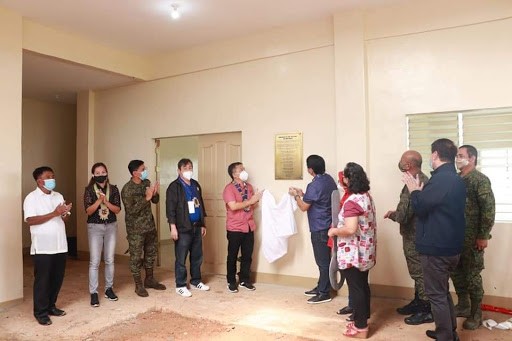 Department of Social Welfare and Development (DSWD) Secretary Rolando Joselito D. Bautista graced the inauguration of the Halfway House for Former Rebels (FRs) project of the 53rd Infantry Batallion (IB) of the Philippine Army, in partnership with the Zamboanga del Sur Provincial Government and the Department of the Interior and Local Government (DILG).
The simple inauguration ceremony was held in Barangay Poblacion, Guipos, Zamboanga del Sur on January 21 in celebration of the 53rd IB's 36th founding anniversary, with the theme "Matapat@36: Remember with Gratitude, Renew with Passion".
In his message during the inauguration, Secretary Bautista emphasized the importance of Executive Order 70 in ending armed insurgency in the country.
Secretary Bautista was a former 1st Infantry (TABAK) Division Commander prior to becoming the Secretary of the DSWD.
The Halfway House, funded through the Task Force Balik Loob of DILG, will serve as the former rebels' temporary shelter. It will also serve as venue for other developmental interventions for the former rebels.
For his part, 53 IB Commanding Officer Lt. Col. Jo-ar Herera said, "The halfway house is also intended for the FRs' livelihood programs, education, and skills enhancement as part of their preparation to go back to mainstream society."
The DSWD remains committed to contribute to government efforts to encourage Former Rebels' to return to the fold of the law by providing them with various programs and services that enable them to start anew. ###