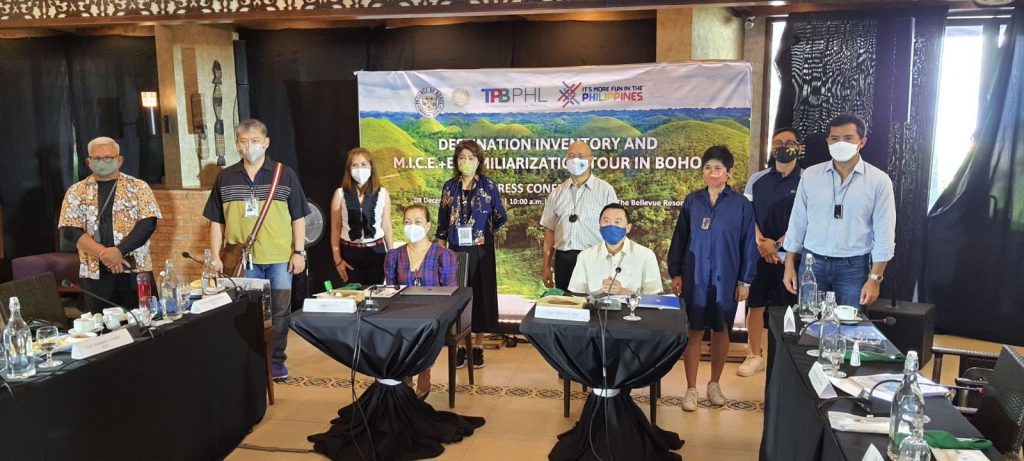 The Department of Social Welfare and Development (DSWD) committed to continue to assist informal sector workers in the tourism industry whose livelihood have been severely affected by the COVID-19 crisis.
This was emphasized by DSWD Assistant Secretary for Specialized Programs Rhea B. Peñaflor during the recently concluded "Meetings, Incentive Travel, Conventions, and Exhibitions and Events (MICE+E) Familiarization Trip" to Bohol organized by the Tourism Promotions Board (TPB) on December 7 – 10, 2020. The activity was attended by the stakeholders and representatives from the member-agencies of the government's National Task Force on Recovery.
"Sustainable Tourism is an important driving force, our fuel to socio-economic development and poverty reduction. It generates employment both in formal and informal sectors," Assistant Secretary Peñaflor said as she discussed the role of sustainable tourism in the country's way to recovery during a press conference held in Panglao, Bohol on December 8.
According to the Assistant Secretary, eligible families from the informal sectors whose livelihood were affected by the pandemic are given Livelihood Assistance Grants (LAG) under the DSWD Sustainable Livelihood Program, one of the agency's social protection programs.
In Bohol alone, DSWD Field Office VII reported that a total of 2,803 families with grants amounting to P17, 910,000 have been provided with LAG, as of November 4, while an additional 1,206 families with a requested allocation of P18,890,000 are targeted to be served and are awaiting the implementation of the program.
"We commit to the Department of Tourism – Tourism Promotions Board to provide support through our social protection programs like Livelihood Assistance Grants to these informal sector workers whose livelihood were affected by the pandemic," Assistant Secretary Peñaflor added.
The MICE+E Familiarization Trip to Bohol aimed to validate and inspect the general preparedness of the tourism industry in the new normal, as part of the government's recovery efforts.
The National Task Force on Recovery, led by the National Economic Development Authority (NEDA), is mandated to focus on the development of programs, projects, and innovative delivery mechanisms applicable to the new normal. DSWD is a member of the Task Force and sits as the Chair of the Sub-Task Group on Social Recovery. ###