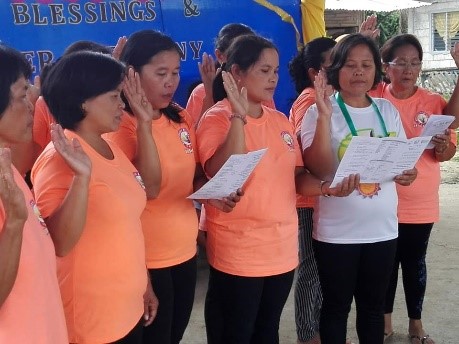 Women take their oath as volunteers of Kapit-Bisig Laban sa Kahirapan-Comprehensive and Integrated Delivery of Social Services (Kalahi-CIDSS).
Josephine Naliza of Madua Norte, Duero, and Isidra Caybot of Libjo Sikatuna in Bohol were happy and contented taking care of their respective families.
But Kapit-Bisig Laban sa Kahirapan-Comprehensive and Integrated Delivery of Social Services (Kalahi-CIDSS), a community-driven development program implemented by the Department of Social Welfare and Development (DSWD), gave them another reason to be happier and feel more fulfilled. The program has given them a bigger responsibility of taking care not just their own families but their communities as well. It was a responsibility they gladly accepted, which brought out the best in them.
One of the core principles of Kalahi-CIDSS is empowerment of the sectors which normally do not participate in community activities. This adheres to the concept of capacitating every sector to achieve sustainable community development.
Thus, Kalahi-CIDSS provides training and other activities to educate these sectors, especially women who were mostly in their homes taking care of their children.
When Kalahi-CIDSS was introduced in their communities in 2014, Josephine, Isidra and their fellow women also started to get involved and actively participated in the activities in the barangay. The program has given them a different perspective in life. Before their involvement in Kalahi-CIDSS, some of them were shy and did not even want to open up and speak in public. When they joined and started attending Kalahi-CIDSS seminars, they slowly became more vocal and assertive.
Through the Kalahi-CIDSS education and training activities, Josephine, Isidra and the other women were given a voice in their communities, subsequently bolstering their self confidence and self-esteem.
"Maayo gyud nga ni boluntir ko kay aron madungagan ang akong kahibalo. Mapasalamaton ko sa DSWD Kalahi-CIDSS tungod kay gihatagan kami ug kahigayonan nga masuta ang panginahanglanon sa among barangay. Ug tungod sa among pag boluntir, napunduhan ug napaayo namo ang among karsada" (It is good that I joined as a community volunteer because I learned a lot. I am thankful to Kalahi-CIDSS because it has given me the opportunity to contribute to my community. Through the volunteers' efforts, our project was funded and we were able to repair our road), narrated Josephine Naliza, Madua Norte's procurement chairperson.
Meanwhile, for Isidra Caybot, former community volunteer and now a Barangay Kagawad, Kalahi CIDSS paved the way for her being a community leader.
"Dako kayo kinig na itampo sa akong kinabuhi, nadugangan ang akong kahibalo, nagamit usab nako ang experience nako sa pagka volunteer sa Kalahi-CIDSS sa akong pagka barangay kagawad. Tungod ana, nakita sa mga taw ang akong ka aktibo sa kalihukan sa barangay" (My experience with Kalahi-CIDSS has a great impact in my life. It helped me become a Kagawad. I ran for barangay councilor because people have seen my active participation in barangay affairs and my potential as a leader), she related.
Isidra is just one of the many community volunteers of Kalahi-CIDSS who became barangay officials in their respective localities, a tangible proof that the program can empower women and go beyond their traditional roles.
Currently, Kalahi-CIDSS has a total of 1,048,407 volunteers nationwide, 64% of whom are women.
Region VII alone has 54,857 women community volunteers with some becoming employees of their respective local government units. Others are joining local politics.
To date, Kalahi-CIDSS is being implemented in 847 municipalities benefitting a total of 7.8M households from completed community projects such as farm to market roads, footbridges, solar dryers, electricity, day care centers, and classrooms, among others. These projects were identified by the beneficiaries themselves as their most pressing needs and subsequently helped, as volunteers, in their completion. ###