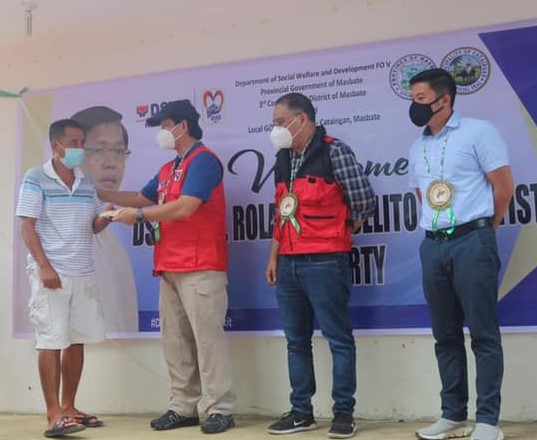 Department of Social Welfare and Development (DSWD) Secretary Rolando Joselito D. Bautista (left) leads the distribution of financial assistance and family food packs to quake survivors from Cataingan, Masbate. Joining the Secretary during the turn over of assistance are DSWD-Field Office V Regional Director Arnel Garcia (center) and Congressman Wilton Kho.
In continuation of the relief operations for the victims of the 6.6 magnitude earthquake that occurred in Masbate, Department of Social Welfare and Development (DSWD) Secretary Rolando Joselito D. Bautista personally visited the hardest-hit municipality of Cataingan on August 26 to oversee the provision of aid and ensure that all the needs of affected families are met.
During the visit, Secretary Bautista and DSWD Field Office (FO) V, led by Regional Director Arnel Garcia, extended P5,000 each to 35 families who were initially validated to have totally damaged houses because of the earthquake. In addition, family food packs (FFPs) were also distributed to affected families with partially damaged houses.
The Secretary also assured the victims on the readiness of DSWD to provide ample and timely augmentation support to local government units (LGUs) especially during disasters.
Based on the report of DSWD FO V, the Department has already provided assistance worth P915,478.36 which includes 1,103 family food packs, rolls of laminated sacks, tents, and financial assistance worth P325,000 for 65 affected families in Cataingan, Palanas, and Pio V. Corpus.
Meanwhile, Secretary Bautista also led the turnover of checks to three Sustainable Livelihood Program (SLP) beneficiaries in Dimasalang, Masbate. The recipients were the Buracan ECommunity Store SLPA, Buracan Egg Producer SLPA, and the Masagana Agrivet Farm Supply SLPA.
The Sustainable Livelihood Program Association (SLPA) projects were funded through the Microenterprise Development Track-Seed Capital Fund modality (MD-SCF) of SLP, a livelihood project of the DSWD. The MD Track focuses on starting, expanding or rehabilitating micro-enterprise activities. This track also includes entrepreneurship, technical – vocational and soft skills training.
With the current pandemic, the Department assures the public that it will continue to provide assistance to vulnerable sectors through the provision of appropriate interventions to sustain their basic needs and livelihood. ###