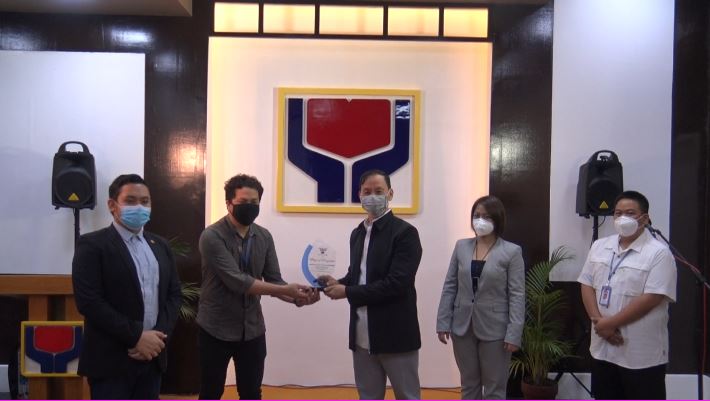 On behalf of the Department of Social Welfare and Development (DSWD), Undersecretary Danilo G. Pamonag (middle) receives the Plaque of Recognition from Digong 8888 Hotline Associate Producer Adrien Matienzo. Also in photo are DSWD Spokesperson and Social Marketing OIC-Director Irene B. Dumlao (second from right), DSWD 8888 Action Center staff Rogelio Tomas Gutierrez (right), and Program Producer John Louise Osuyos (left).
The Department of Social Welfare and Development (DSWD) received an award from PTV-4's "Digong 8888 Hotline" program for being the top responding agency of the television program.
The award was accepted by DSWD Undersecretary Danilo G. Pamonag from Digong 8888 Hotline Producer John Louise Osuyos and Associate Producer Adrien Matienzo in a simple awarding rites on July 29 at the DSWD Central Office.
DSWD was recognized for keeping its line open to accommodate interviews that responded to and resolved complaints and requests for assistance from clients.
On behalf of Secretary Rolando Joselito D. Bautista, Undersecretary Pamonag thanked Digong 8888 Hotline for the recognition and emphasized the effective facilitation of the program to address concerns from the 8888 Citizen's Complaint Center.
"Programs such as Digong 8888 Hotline exemplifies the sincerity and commitment of the government to remain responsive to the concerns of the Filipino people," the Undersecretary said.

"The DSWD guarantees to extend its support to the program and ensures that all requests for assistance and information, as well as complaints and grievances, will immediately be attended to," he added.
Digong 8888 Hotline, which is celebrating its first anniversary this year, is hosted by Chief Presidential Legal Counsel Salvador Panelo, Assistant Secretary Kris Roman, and Ms. Trixie Jaafar.
Meanwhile, as of June 30, 2020, the Department has already resolved 11,708 tickets from the 8888 Citizen's Complaint Center. Most of the concerns received by DSWD include requests for financial assistance under the Assistance to Individuals in Crisis Situation (AICS) and livelihood assistance under the Sustainable Livelihood Program (SLP).
The Department is grateful for the recognition from Digong 8888 Hotline and will continue to strive hard in bringing the government even closer to the people. ###