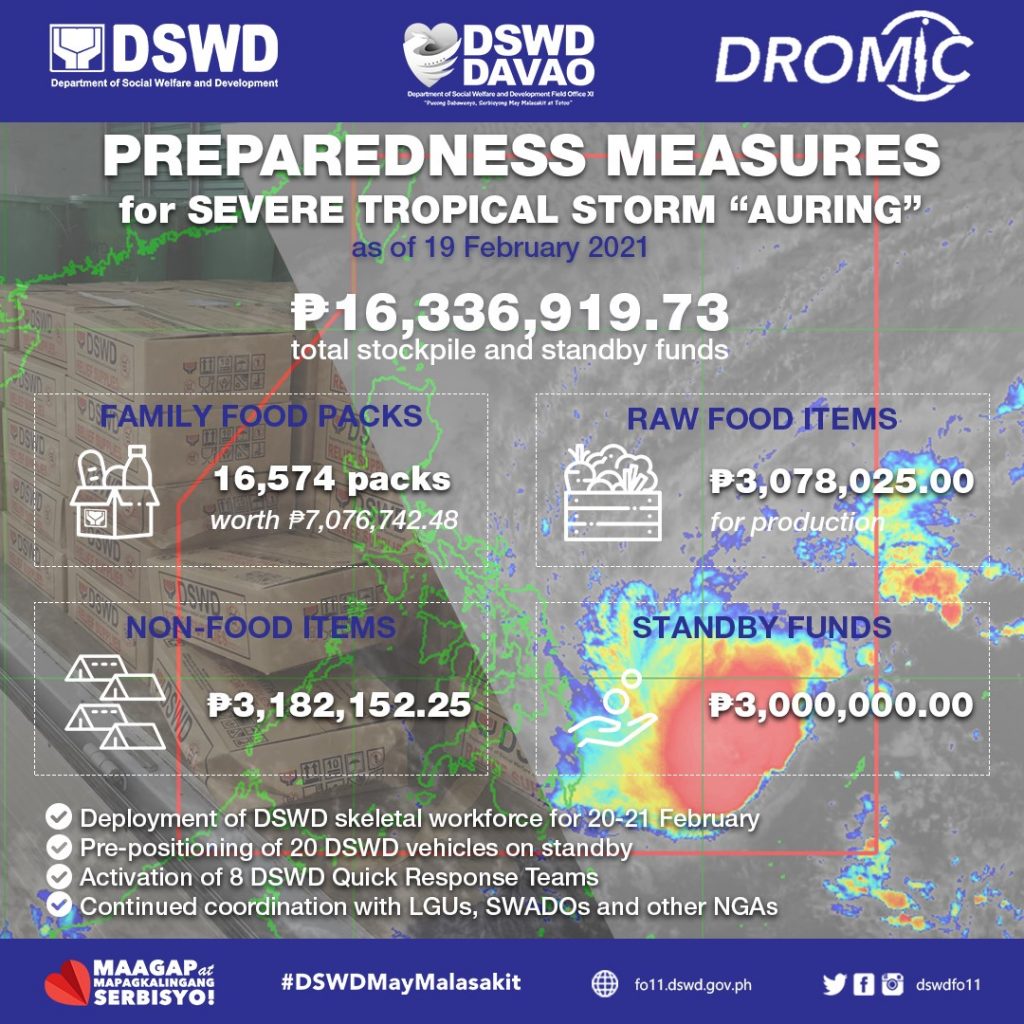 The Department of Social Welfare and Development Field Office XI (DSWD XI) has ensured its preparations in response to the possible onslaught of severe tropical storm Auring in Davao Region, where the province of Davao Oriental and some five municipalities of Davao de Oro were placed under Tropical Cyclone Warning Signal (TCWS) # 1 as of 11 a.m. of February 19.
To date, the total available stockpile and standby funds for disaster response stands at ₱16,336,919.73.
A total of 16,574 family food packs (FFPs) worth ₱7,076,742.48 are prepositioned at the DSWD Warehouse located at Barangay Bago Oshiro, Davao City. The FFPs are intended as resource augmentation to local government units (LGUs) that might be affected by the severe tropical storm.
Also on hand are ₱3,078,025.00 worth of raw food items, ₱3,182,152.25 worth of non-food items and ₱3,000,000.00 worth of standby funds that can be further used when the need for additional relief items arise.
The DSWD has deployed a skeletal workforce that will be on duty on February 20 and 21 and has already activated its eight Quick Response Teams (QRTs), composed of 12 members each. This is to ensure that DSWD employees are ready for possible deployment to disaster response operations.
A total of 20 DSWD service vehicles are also put on standby to be used for possible delivery of basic social services in times of disasters.
Lastly, the DSWD is in continuous coordination with the different LGUs, national government agencies (NGAs) and the Social Welfare and Development Offices (SWADOs) in the different provinces as to the possible effects of the weather disturbance in the region.
###